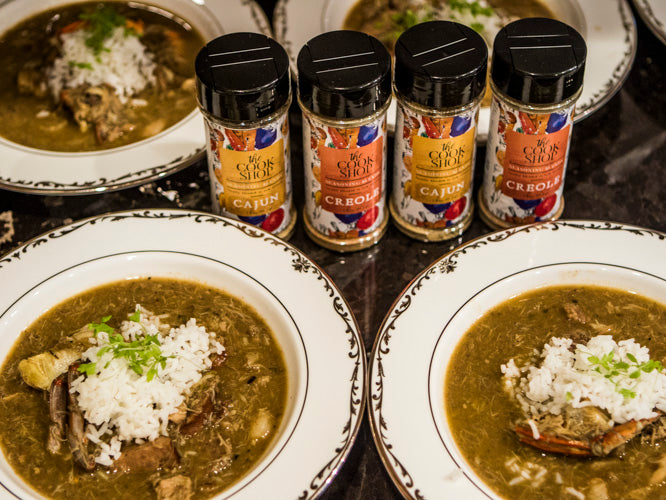 New Orleans is famous for its world class, one of a kind cuisine, but its cuisine is actually comprised of two different kinds of cooking.  They are Creole and Cajun.  I grew up loving my uncle Kenneth's food.  His jambalaya is one of the best I've tasted.  In fact, my son used to go to restaurants and order "Uncle Kenneth's jambalaya".  I've  had to explain to him on more than one occasion that you can only get that in one place. His is made with a tomato base.  I remember the first time I saw brown jambalaya.  I thought it wasn't authentic, but what I later learned is that it was Cajun, not Creole. 

So what's the difference between Cajun cuisine and Creole?
Please allow me to begin by saying there are numerous legitimate variations on much of our history in Louisiana. The origins of many of our famous dishes are fodder for endless discussion and sometimes a very touchy subject. My goal here is only to point out some of the more well-accepted differences regarding Cajun and Creole cuisines.  Some say it's as simple as the difference between city and country eating.  Traditionally, there are three primary factors that help determine whether food is Creole or Cajun.  They are the people who created the recipes, the area of origin of the particular dish and the ingredients.
Throughout the world, there are pockets of indigenous people who consider themselves Creole. For the purposes of this article, I'm referring only to those in Louisiana. Even with this qualifier, there is more than one definition of Creole. I have to admit it is difficult to define.  One description of the term is those of African descent, those racially mixed and those not racially mixed, but of French and Spanish descent, whose ancestors occupied Louisiana before it became a part of the United States in 1803.  I like this explanation because it's inclusive and acknowledges all those who contributed to our beautiful culture.
Creole food is the food of New Orleans.  
Sophisticated and exotic, it is an eclectic blend of the spices and other fare available to a port city of growing importance with access to the world's bounty. The influences of many cultures are proudly on display.  John Folse, in his book "The Encyclopedia of Cajun and Creole Cuisine", lists French and Spanish settlers, coastal Native Americans, Germans, West Africans, Italians/Sicilians and English as the culture bearers from which Creole cuisine evolved.   I would like to add Canarians and Cubans based upon my personal family history, and I'm sure there are others.  This cuisine is ladened with complex sauces, cream based soups, tomato gravy and numerous seasonings.  Did you know there are about 11 ingredients in a shrimp cocktail sauce and as many as 13 ingredients in a good remoulade sauce?  Of all of the aforementioned, nothing serves to distinguish Creole cooking from Cajun more than the use of tomatoes. Many say an easy way to tell the difference between the two is to look at the color of the gravy.  If it's red, it's Creole.  If it's brown, it's Cajun.  Staple dishes include Trout Meurniere Amandine, Shrimp Remoulade as well as Grits and Grillades.
Cajuns are much easier to identify than Creoles.
  They are derived from
Acadians
who were French settlers in Canada's Acadian regions.  The British gained control of Canada in 1713 and demanded that the Acadians both defend the throne and adopt the Protestant religion as their own.  When they refused to comply, the Acadians were forced by the British from their new homeland, and eventually made  their way to the swamps of Louisiana in the area now known as Acadiana.
Cajun Country covers a lot of territory.  22 parishes in southern Louisiana make up Acadiana. The parishes run along the Gulf coast from just west of New Orleans all the way to the Texas border.  8 of the 22 parishes form the Cajun Heartland, USA district and include parishes such as Lafayette, Acadia and Iberia.
Cajun food is hearty, made with what the bayou and flatlands could provide. 
There are no complicated sauces.  The meals are often one-pot creations,  and tomatoes are rarely used.  One explanation for the absence of tomatoes is that they didn't grow well in the marsh and were not readily available. A cuisine born of necessity and resourcefulness, Cajun food spared no part of the wild game hunted by early settlers and used every kind of seafood offered by the Gulf of Mexico.  Today millions of us have partaken of the glory and wonderment that is a seafood boil.  Well, we have God and the Cajuns to thank for this.  Known for being well-seasoned, the food of Acadiana originally used spices as a preservative.  Remember, there were no refrigerators and resources were limited.  They are also known the world over for treats such as boudin balls and andouille sausage. The French mirepoix, composed of roughly chopped onion, celery and carrots, is the basis for the Cajun holy trinity which uses bell peppers instead of carrots.  The average Creole dish begins with this medley as well, which leads me to my next point.
I had a conversation with my aunt Marilyn about this topic and in her Seventh Ward way, where everyone knows a lot about a lot, she voiced her own take on Louisiana cuisine.  "The seasonings for jambalaya, gumbo and all the dishes I know of are the same. The only difference is that some people use tomatoes and some don't.  That's why sometimes you have the same dish, but the gravy may be red or it may be brown.  They're both delicious."  After further explaining that Creole dishes and Cajun dishes are both red and brown, she politely exited the conversation to take care of other more pressing matters calling for her attention.  I was left to reflect on what she said.  I so wanted to tie the two cuisines into neat little packages, one brown and the other red, but my aunt had unwrapped my boxes and mixed their contents together.  Finally, I had to admit there is some truth to what she said.  The lines are becoming more blurred between Cajun and Creole.  Cajuns sometimes cook with tomatoes.  Creoles sometimes cook without.  My great-grandmother used tomatoes in her gumbo, but My Uncle Kenneth who grew up one block away from her on the same street, makes his gumbo brown.  And it is delicious.  So there you have it.  There is a world of difference between Cajun and Creole cuisines,  but one often borrows from the other.
Below are a Creole recipe and a Cajun recipe for jambalaya.  Try them both and decide which one you like best. You can also mix The Cook Shop Creole and Cajun seasonings together for the best of both worlds! Enjoy!
__________________________________________________
CREOLE  JAMBALAYA
Cooking Music: I suggest Wynton Marsalis, "Wynton Marsalis' First Recordings".  Just listen and you'll know why.
INGREDIENTS:
2 tablespoons vegetable oil
5 tablespoons of The Cook Shop Creole Seasoning, or use to taste. You can add as much as you like. Your dish won't taste salty.                                      
1 large onion, chopped
3 green onions, chopped
3 cups diced chicken thighs
1 pound Andouille sausage sliced
1 (8-ounce) can tomato sauce
5 cups cooked rice
Garnishes: fresh parsley sprig, chopped fresh parsley
DIRECTIONS:
Sprinkle chicken with The Cook Shop Creole Seasoning and marinade at least 1 hour. Heat up a large skillet over medium heat, then add oil. Add onion and The Cook Shop Creole Seasoning; sauté until tender. Add chicken, sausage and tomato paste. Add more of the Cook Shop Seasoning to taste. Cook, stirring occasionally, for 20 minutes. Stir in rice, cover, and cook, stirring occasionally, 12-15 minutes over low heat. Add more of The Cook Shop Seasoning, if desired. Just enough time for rice to absorb all that goodness.  Garnish and serve.
Yield: 8-10 servings
______________________________________________
CAJUN JAMBALAYA
Cooking Music:  I suggest The Balfa Brothers "The Balfa Brothers Play Traditional Cajun Music, Volumes 1 & 2".  It takes you on a musical tour of Acadiana.
INGREDIENTS:                                                          1/2 pound boneless skinless chicken thighs, cut into 1-inch cubes                                                                4 tablespoons of The Cook Shop Cajun Seasoning, or use to taste. You can add as much as you like. Your dish won't taste salty.                                           2 tablespoons vegetable oil                                          1 cup chopped yellow onion.                                       1 tablespoon Worcestershire sauce                          1/2 pound andouille  sausage cut in 1/4-inch slices    1 cup uncooked long grain rice                                   2 cups chicken broth                                           Minced parsley for garnish
DIRECTIONS:
Sprinkle chicken with Cajun seasoning and marinade at least one hour. Heat a large skillet, then add oil. Cook chicken  in oil over medium-high heat until juices run clear. Remove chicken and set aside. In the same saucepan, sauté the onion with The Cook Shop Cajun Seasoning over medium-high heat for 1 minute. Stir in the sausage, rice and chicken, then season with more of The Cook Shop. Add broth and Worcestershire sauce; bring to a boil. Reduce heat; cover and simmer for 20-25 minutes or until rice is tender and liquid is absorbed. Fluff with a fork. Garnish with parsley
Yield: 4-6 servings.
---