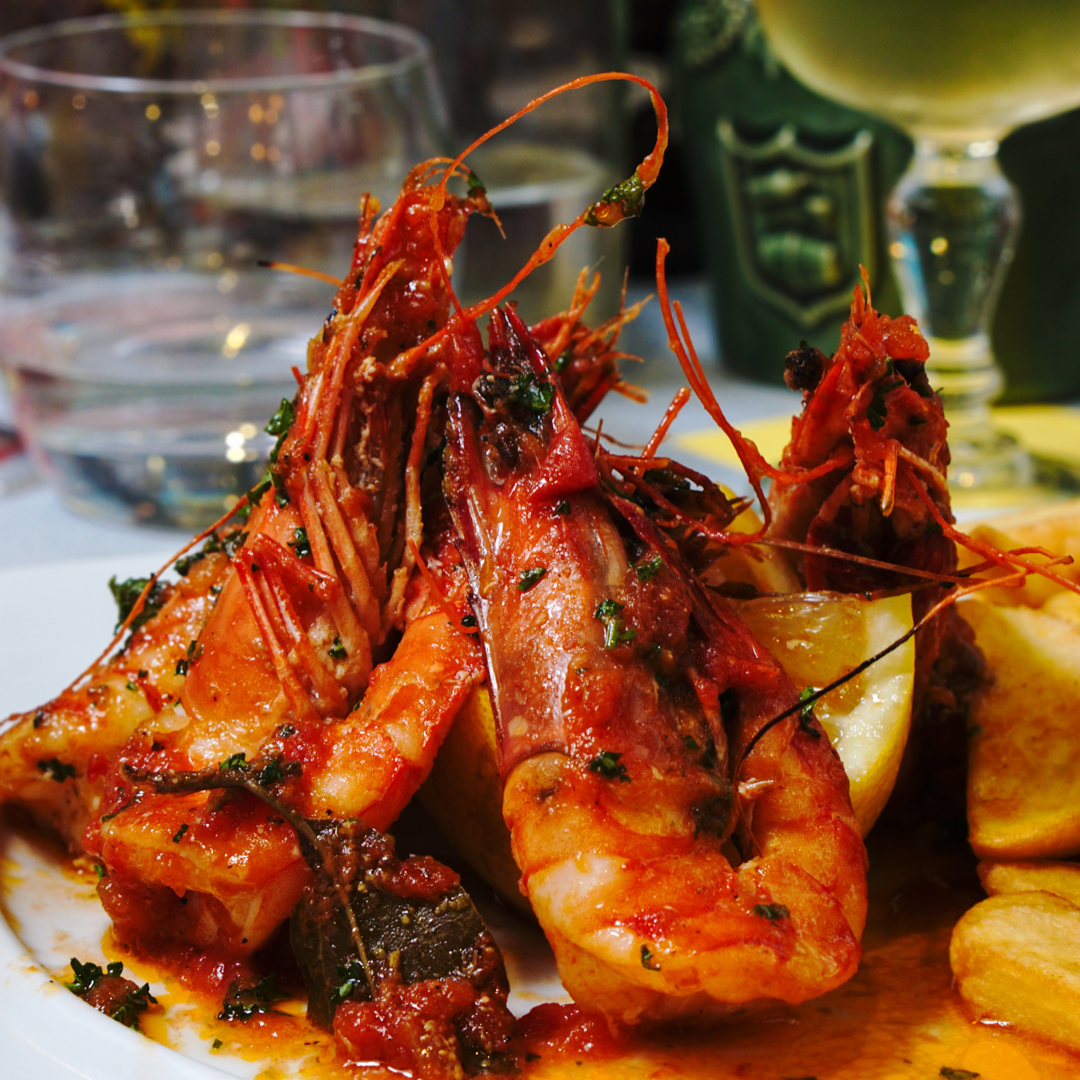 Ingredients
1/4 cup smoked paprika
1 tablespoon cumin
Pinch of sugar
1 tablespoon kosher salt
2 tablespoons black pepper
2 tablespoons of The Cook Shop Creole Seasoning Blend
2 tablespoons fresh Rosemary
2 lbs jumbo shrimp
1/2 cup of butter
2 tablespoons minced garlic
2 qts of shrimp stock
Few splashes of Worcestershire sauce
Juice of one lemon
Parcley for garnish
French bread for dipping
________________________________________
Instructions
Set the mood to cook.  First, pour yourself a glass of sauvignon blanc.  Next is the music.  I recommend Nancy Wilson's "The Nancy Wilson Show" when preparing this dish. You can follow that up with "But Beautiful".  Why?  It's Nancy Wilson.  She goes with everything!
Mix the smoked paprika, cumin, sugar, pepper, The Cook Shop Creole Seasoning Blend & rosemary together.  Add a handful of the blend to your Jumbo Shrimp and toss to coat evenly. Set aside.
Melt the butter over medium heat in a 12-inch skillet. Add the garlic and cook, stirring with a wooden spoon, for one minute. Do not brown. Add the shrimp and continue cooking over medium heat, stirring frequently, until the shrimp are almost cooked but still opaque in spot, 3-4 minutes.
Add the Worcestershire sauce, lemon juice and shrimp stock, then cook until shrimp are done- 1-2 minutes more. Now, get ready to find out what food that satisfies the soul is all about!!! Please be sure to dip the French bread into broth… HEAVEN!!!!!
Slice the French bread, toast it, then spread a little butter over it. 
Although it's a dessert wine, Moscato is perfect with this dish.  It's the sweet added to the heat.
_______________________________________
LAGNIAPPE
 The Origin of Barbecue Shrimp
New Orleans, the premier city of the developing North America throughout the 1800s because of its port, is a city of firsts.  It boasts the birthplace of jazz, the cocktail and yes, even one of my favorite dishes, barbecue shrimp.  Chef Gason isn't the only one with memories of this fine dish.  There was a time when I was really ill.  I don't recall the ailment, but I was officially a part of the club known as the sick and the shut-in.  A friend brought me a pan of barbecue shrimp to help me feel better.  Does that seem strange? Well, all I can say is, it worked!
So how did this amazing dish with real healing power come into being?  The story is that in the 1950s, a regular patron of Pascal's Manale walked into the restaurant after returning from a business trip to Chicago.  He spoke of a meal he had there and asked Jake Radosta, Pascal's brother and the restaurant's chef, if he could recreate it.  Jake went to work and the rest is barbecue shrimp history.  The patron exclaimed that the New Orleans version was even better than the dish he tried in Chicago.  It's not clear why it received its name, considering that no barbecue sauce is required.  Never-the-less, this is certainly a treat worth trying.  Bon appetit!
Read Also:- DO YOU REALLY KNOW HOW TO COOK SALMON?
---