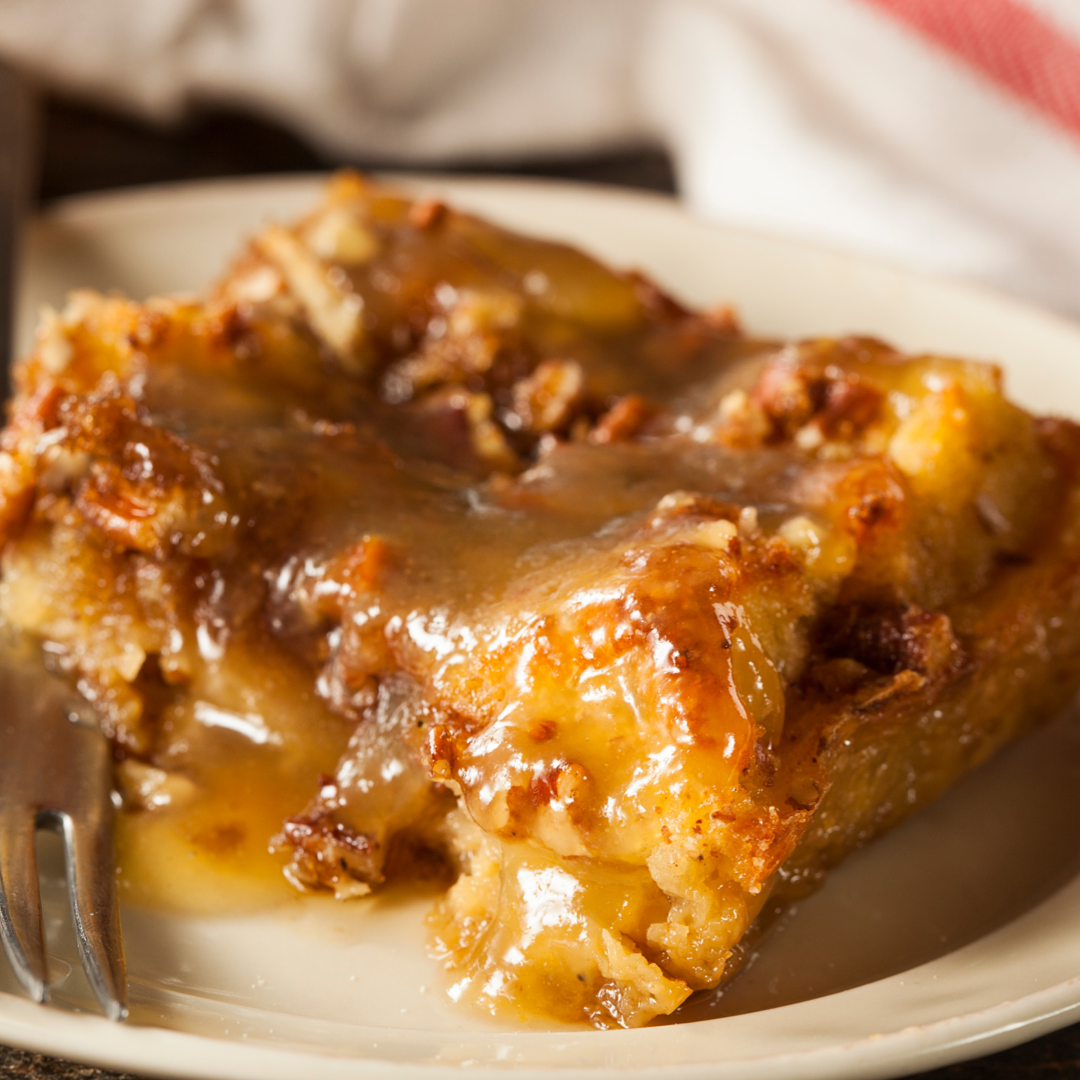 Growing up in New Orleans mandates a love affair with bread pudding.  I don't remember the first time I ate it, but my grandmother made one of the best I've ever tasted.  If food is an expression of love, (and I know that it is), we were most certainly cared for and treasured by my grandmother.  Born Evelina, she shortened her name to Evelyn, but we called her Nina.  Nina was a God fearing, gentle, kind, empathetic woman who was gifted with a talent for cooking. After school, my cousins and I would all go to my great grandparents' home in the 7th Ward.  The house was a double  shotgun, renovated into a single, located caddy-corner to Valena C. Jones Elementary School. It was the gathering place for my family.  Nina would have the most amazing dinners waiting for us, and they always included my favorite part of any meal, the dessert.  Chocolate covered turtles, Strawberry shortcake, peach cobbler, pound cake, all made from scratch. In fact, my grandmother is my inspiration.  It is my desire to share with you, the love I felt growing up, that motivates me.  Every evening I looked forward to seeing my family and anticipated the wonderful delights I knew Nina would have waiting. The world needs a good plate of bread pudding with whisky sauce every once in a while.  I'm convinced it would go a long way toward creating peace on earth.
THE SAVORY SIDE OF BREAD PUDDING
When I researched the origins of bread pudding, I learned that it can be savory or sweet.  Imagine my surprise! In Louisiana, it's primarily a dessert, made with stale bread,  milk, vanilla and a host of other good things. Food historians, however, believe bread pudding dates back to the early 11th century.  Known as the poor man's pudding in 13th century London, bread pudding has humble beginnings.  A dish originally created so as not to waste food, it has become a staple around the world and can be quite fancy.
My research for this article also led me to the woman known by some as the Queen of Bread Pudding, Portia Little. This bread pudding enthusiast is certainly a connoisseur on the subject, championing it as the ultimate comfort food.  When you visit her blog "Bread Pudding All Day", http://breadpuddingallday.blogspot.com/, it will become apparent why she feels this way. There are recipes for every kind of bread pudding you can imagine, from sweet halloween holiday specials mixed with miniature chocolate snickers bars, twix and other popular All Hallows Eve treats, to savory meals using sausage, cheese and onion. The recipe I have to try my hand at is the PB&J bread pudding. I don't see how I can go wrong with a dish that allows me two indulge in two of my favorite treats at once.
Locally, in New Orleans, some bread pudding desserts include coconut shavings and or fruit cocktail or raisins.  Commanders Palace is known for it's white chocolate bread pudding souffle, and I recall the most amazingly decadent toffee bread pudding at Balise Restaurant. Unfortunately, Balise did not survive COVID, but I'd love to get my hands on a copy of their recipe.
GET THE RECIPES FOR MY GRANDMOTHER'S SWEET BREAD PUDDING & THE SAVORY CROQUE MONSIEUR 
Initially, I was intent on bringing you the bread pudding that delighted me in my youth, but my mouth literally watered when I read of some of the savory versions.  For this reason, I feel compelled to share not only my grandmother's bread pudding recipe, but the recipe for one of the savory dishes I never knew existed, as well. I think you'll enjoy our version of the Croque Monsieur Savory Bread Pudding found on the food and travel website, Salt & Wind, at salthandwind.com.  
Although there are thousands of different takes on this once simple dish, some find it harder to accept than others. You see, many New Orleans natives hold the belief that our cultural traditions originated here. To this point, I discussed my bread pudding discoveries with a friend, very excited to share what I learned, but he could not believe bread pudding hails from England and began as a savory meal. "Maybe that's a stuffing or possibly quiche, but it's not bread pudding," he reasoned.  Well, I'll let you be the judge.  Please explore, experiment and share with us what you discover.
 NINA'S BREAD PUDDING WITH WHISKY SAUCE:
Ingredients
Bread Pudding
---
     1 Stale loaf of Leidenheimer French bread
(If bread is not already stale, leave out over night or place in oven heated to 350 degrees Fahrenheit for 10 minutes.)
 1 stick of butter
3 large eggs
2 tablespoons of vanilla extract
3 cups of evaporated milk
3 cups of water
1 cup of granulated sugar
1 cup of raisins
(Soak the raisins overnight in whisky.  My grandmother preferred bourbon and that's what I'm using for this recipe.  If you don't want to use alcohol, use water.  It's important to soak the raisins so they become plump before baking.)
Directions
Set the mood:  "Ella and Louis", an album by Ella Fitzgerald and Louis Armstrong, is what you should listen to.  A strong cup of coffee with chicory is perfect for this dessert.
Preheat your oven to 350 degrees Fahrenheit and grease your baking pan. The pan should be 9" x 13" x 2" deep. Break the French bread into thick chunks. Fill a bowl with water and place the chunks of bread into the water. Let sit for 5 minutes, then remove the bread and with your hands, squeeze out the excess water and place on the side.  Next use a large bowl to add the water, milk and vanilla together.  Now add the sugar.  Taste it to determine if you'd like it to be sweeter and add more sugar, if necessary.  The stick of butter should be soft/room temperature and beaten together with the eggs.  Add them to the water, milk, sugar and vanilla.  Whisk all the ingredients together.
Drain the raisins and add them to the mixture. Stir well.  The bread is the last ingredient you will add.  Again, stir it all together, then pour the bread pudding into the baking pan.   Make sure the bread is completely covered by the liquid.  Place in oven and bake 40-50 minutes.  (After 40 minutes, test whether the pudding is done by sticking a knife in the middle.  If the knife is clean when you pull it out, your bread pudding is ready!)
Whisky Sauce
1 soft stick of butter
1 cup of sugar
1 cup of whisky.  My grandmother preferred bourbon.
Directions
Using a hand blender, whip the butter and sugar together until light and fluffy.  Next, add the bourbon in slowly while continuing to blend the sauce. 
(Serves 6-8)
CROQUE MONSIEUR SAVORY BREAD PUDDING:
Is there anything better than a great ham and cheese sandwich? Well, if there ever was a contender, I'd say it'd be this recipe for Croque Monsieur Savory Bread Pudding also known as Strata, or whatever you prefer to call it. This recipe is basically a giant deconstructed Croque Monsieur (aka ham, cheese, French Bread, and all things delicious). With caramelized onions, fresh thyme, nutty cheese, and all sorts of toasty, crunchy bits. It's easy to make and perfect for lazy days and long brunches. 
Ingredients
The Cook Shop Creole & Cajun Seasoning Blends to taste. Use both of these to kick up the flavor.
1 tablespoon unsalted butter, plus extra butter for coating pan
1 yellow onion, roughly chopped (about 1 1/2 cups)
1 tablespoon roughly chopped fresh thyme leaves, plus 1 teaspoon for garnish
8 large eggs
1 1/2 cups half-and-half
2 tablespoons Dijon Mustard

1/2 teaspoon hot sauce, plus more for garnish
1 1/2 teaspoons kosher salt
1 pound Canadian Bacon cut into 1/2-inch pieces

1 pound loaf French bread, stale or toasted, diced into 1-inch pieces
2 cups shredded Gruyere cheese (about 4.5 ounces)
1/4 cup finely grated Parmesan cheese (about 1 ounce)
Directions
NOTE: Please prep this dish the day before you plan on baking and serving it. 
Set the mood: Sarah Vaughan's compilation "Young Sassy".  Jazz standards go great with brunch, and Ms. Vaughan's silky, sultry, voice is a perfect way to ease into the day.  I suggest serving this with a pineapple mimosa made of equal parts champagne and pineapple juice.  Sweet and savory are always a winning combination.
Coat a 2-quart (about 11-by-7-inch) baking dish with butter and set aside. Place a large frying pan over medium heat and add butter. When it foams, add onion, season with The Cook Shop Seasoning Blends, stir, and cook until slightly softened, about 3 to 4 minutes. Remove from heat and stir in thyme.
Whisk eggs, half-and-half, mustard, hot sauce, and The Cook Shop Seasoning Blends in a large bowl until evenly combined. Arrange half of the bread in bottom of prepared dish. Sprinkle with 1 cup of the Gruyere, then add half of  the onion and thyme mix. Next add half of the ham. Repeat layering with the remaining ingridients. Last, poke holes through the layers before pouring egg mixture over top to ensure the bread is submerged in egg custard.
Cover baking pan with plastic wrap and place a steak weight over it. If you don't own a steak weight, an easy solution is to make one using a  plate and several cans or a weight equaling at least 1 pound. Place the cans/weight on the plate and secure them in a plastic bag. Put the weight on top of the wrapped baking pan and place in refrigerator for 3 to 12 hours.
When ready to bake, heat oven to 325°F and arrange rack in the middle. Take bread pudding out of refrigerator to sit until room temperature while oven heats, at least 20 minutes. Bake for 20 minutes, then increase temperature to 375°F. Sprinkle parmesan over the bread pudding and bake for another 15 to 20 minutes until puffed and edges pull away slightly. Remove from oven and sprinkle with remaining thyme. Cool for at least 5 minutes before serving. Serve with hot sauce on the side.
(Serves 8-10)
---