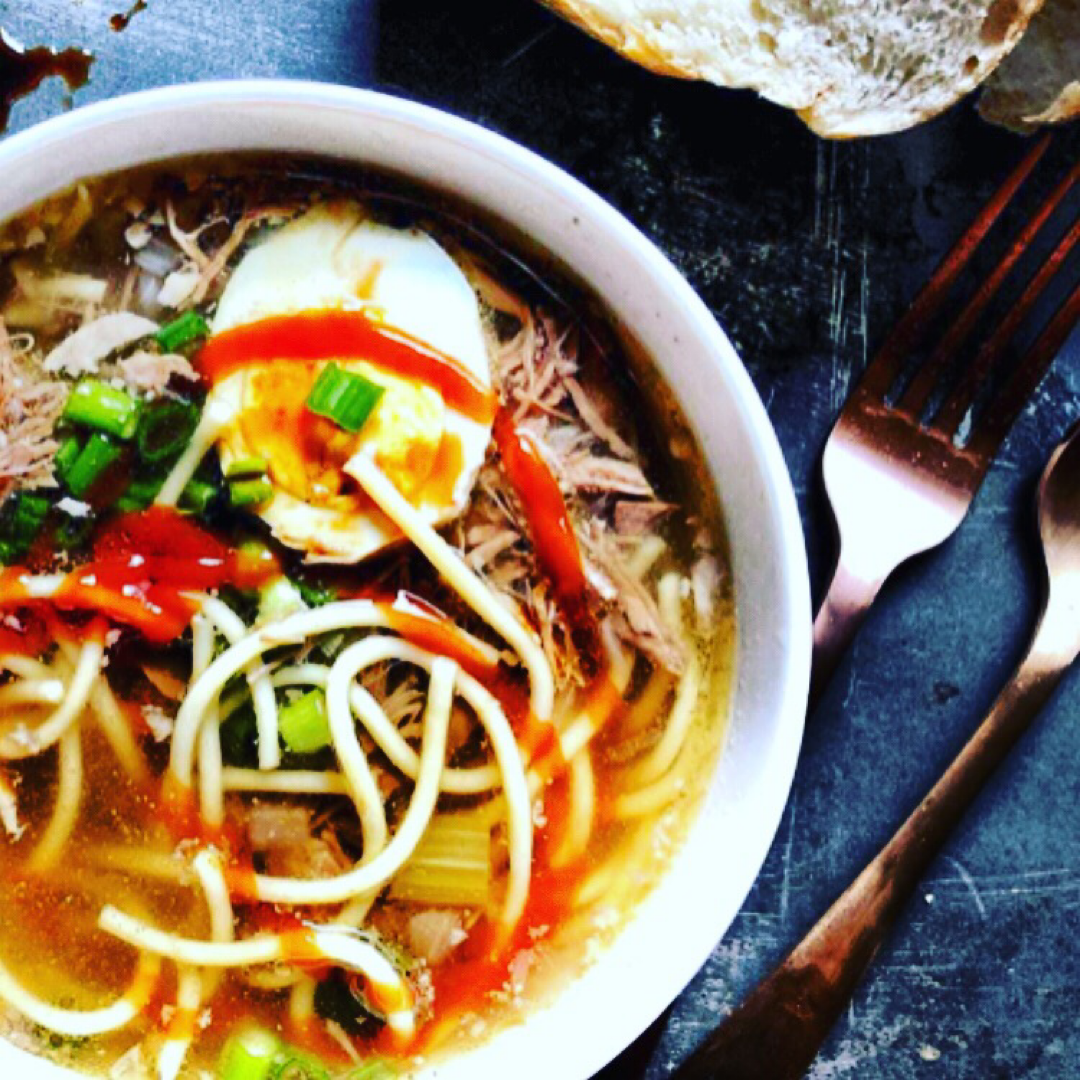 Yaka Mein, Ya-ka-mein, Yakamein, Yakamee, Yaka Meat and Old Sober are all different expressions of the same dish.  Many claim it has mystical healing powers such that it can cure a hangover with a single bowl.  Asian in origin, this well-known soul food fare is a New Orleans staple.  There are as many different ways to prepare it as there are to spell it. The variations are endless.  The YaKaMein Lady, Ms. Linda Green, can attest to this.  Her website offers beef, shrimp, beef and shrimp, duck, oyster, vegetarian and even alligator yaka  mein. My go-to chef, Gason Nelson, makes a version with turkey, and also has one that uses turtle or cowan, as it's commonly called in these parts.  While there are infinite possibilities when it comes to creating this concoction, it is traditionally made with beef and always includes noodles, an Asian broth infused with creole spices and is topped with a boiled egg and chopped green onion.  Despite its popularity, surprisingly little is known about how, when and by whom this dish came into being.
Here is what I can tell you.  Yaka mein is a soup.  I've actually heard it referred to as a gumbo, but it most certainly is not that.  There is no Creole or Cajun version of this dish, no roux or tomato paste is used to make it, and it is often described as Chinese soul food.  It is also a New Orleans phenomena, not well known throughout the rest of the state or region.  For this reason, one may assume that New Orleans is its birthplace.  Very little is written about the dish, and most of what we know about it, including how to make it, has been passed down from one generation to the next by oral tradition.
(Photo: Chinese who operated small shops in New Orleans' Chinatown for many decades learned in 1937 that their small city-within-a-city was doomed to make way for a parking lot. Shown in front of one of the shops on Tulane Avenue between Elk Place and Rampart Street are Big Gee, seated, and Lee Sing, standing. The Times-Picayune/The Times-Picayune/Landov)
In an attempt to unravel the mystery that is Yaka mein, one must look to its makeup.  Considering its name, the use of noodles and the light broth, it makes since to look back to Asian influences in New Orleans. After the abolition of slavery, new means of attaining very cheap labor became imperative to the survival of plantations in the South.  In the Caribean, after the slave revolt, plantation owners began bringing in Chinese laborers.  It worked very well for them, so the south followed suit.  In 1867, Chinese immigrants were brought to Louisiana sugar cane plantations, but soon left in search of better opportunities.  They found their way to the City of New Orleans where they worked building the railway system.  As the population grew, a collection of Chinese stores, restaurants and other kinds of businesses cropped up on Tulane Avenue near Rampart Street.  Richard Campanella wrote an article for the
Times Picayune chronicling the development and disappearance of the two China Towns that evolved in New Orleans.  The first one on Tulane Avenue, was moved in 1937 for the creation of a parking lot. A second, smaller China Town later developed on Bourbon Street.  It is important to note that the Chinese restaurants served patrons of all hues and stations.  This was probably the introduction of Chinese cuisine to African Americans in New Orleans.  Chef Gason believes that New Orleans natives did to yaka mein what they do to most things.  They creolized it.  Traditional Chinese cuisine was adapted to appeal to the tastes of the hot and spicy thrill seekers that populated this city.
I asked my mom why she never made yaka mein and was told that so many corner stores sold it, and it was so inexpensive that it was easier to buy.  So that's that.  Chef Gason has graciously agreed to provide us with his Yaka mein recipe.  I hope you enjoy!
THE COOK SHOP YAKA MEIN
(Serves 6)
INGREDIENTS 
* 1 (8-ounce) package of spaghetti
* 2 quarts of beef stock
* Cajun Seasoning to taste
* 1/2 teaspoon of ground ginger 
* 2 cups of cooked meat (beef, chicken, pork, shrimp, turkey or turtle), finely chopped
* 2 tablespoons of low sodium soy sauce
* 2 cleaned portobello mushroom caps 
* 3 Bok Choy leaves 
* 3 hard-boiled eggs, peeled and halved lengthwise
* 1 bunch of green onion, finely chopped
DIRECTIONS 
Cook spaghetti according to the package directions. While spaghetti is cooking, bring stock, ginger and Cajun Seasoning to a boil in a large pot. Add your choice of meat and simmer 5 minutes. Reserving stock, strain meat out. Set meat aside and keep warm. Bring stock back to a boil and stir in bok choy and portobello mushroom caps. Simmer 3 minutes. 
* To assemble, place drained spaghetti in 6 individual bowls. Divide meat and egg halves over spaghetti. Ladle on broth and sprinkle with green onion.  For extra heat, add a squirt of Sriracha sauce.  If that's not available, hot sauce works also. 
---